MTP,MPO,LC,SC,FC,ST,MU,E2000,MTRJ,UPC,APC,Single mode, Multimode,1XN and NXN types multi fiber optic cable assemblies made by Huihong Technologies Limited.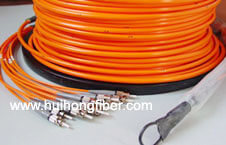 we offer both 1XN type multi fiber cable assemblis like MPO to 12LC which is equilent to CISCO cable assemblies,and we also offer IBM equilent products like MTP to 12MTRJ,etc. we can also make NXN types like 12 SC APC to 12 LC APC.single mode and multi mode ones available. we can use bundle fiber cable or ribbon fiber cable to make the assemblies at the request. Custom design available.
Besides the MPO and MTP multi fiber assemblies, we can make as per your drawing or requirement for multi fiber cable assemblies.
Features:
Single cable assembly with multiple fiber terminations
Multiple fiber construction types
SC, LC, ST, FC, MT-RJ, and MU connector types optional
Custom assemblies with various types of jaket and cable length