FC Multimode Simplex Fiber Optic Cable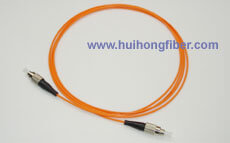 FC Fiber Optic Patch Cable
The FC fiber optic patch cable is available in both singlemode and multimode versions, and is fully intermateable with NTT-FC products. Both smf and mmf versions FC fiber optic patch cord come with a zirconia ceramic ferrule with pre-polished PC profile and convex spherical end.
FC Fiber Optic Patch Cable
We supply FC simplex multimode fiber optic cables, these cables are UPC or PC polish optional, with various kinds of fiber optic cable including Rizer rated, Plenum rated and RoHS compliant. These multimode simplex FC fiber optic cables are custom length and cable colors. The cables can be with 50/125 or 62.5/125 multimode optical fiber. OM3 multimode simplex fiber cables are also available on request.

FC is compliant to IEC, TIA/EIA, NTT and JIS specifications. The FC connector is with PC or UPC versions; it comes with a zirconia ceramic ferrule. The FC cables are low back reflection and optical loss while ensuring maximum repeatability. This FC cables use 50/125 multimode or 62.5/125 multimode fiber.

The FC simplex multimode fiber cables feature the loss insertion loss and return loss, they are compliant to industrial and international standards. Related accessories like connectors, adapters and attenuators are available. We supply the simplex multimode FC fiber cables which feature the good price and extremely fast delivery.